In a 2016 Economist Intelligence Unit report, 499 chief marketing officers (CMOs) and senior marketing executives worldwide were asked to name the top three technology trends that would have the biggest impact on marketing organizations by 2020. Their #1 answer was "mobile devices and networks." "Personalization technologies" came in at #2.
"Surveyed and interviewed marketers seem to agree that the ability to personalize customer experiences at numerous touchpoints will become an essential feature in future marketing departments."

—The Economist Intelligence Unit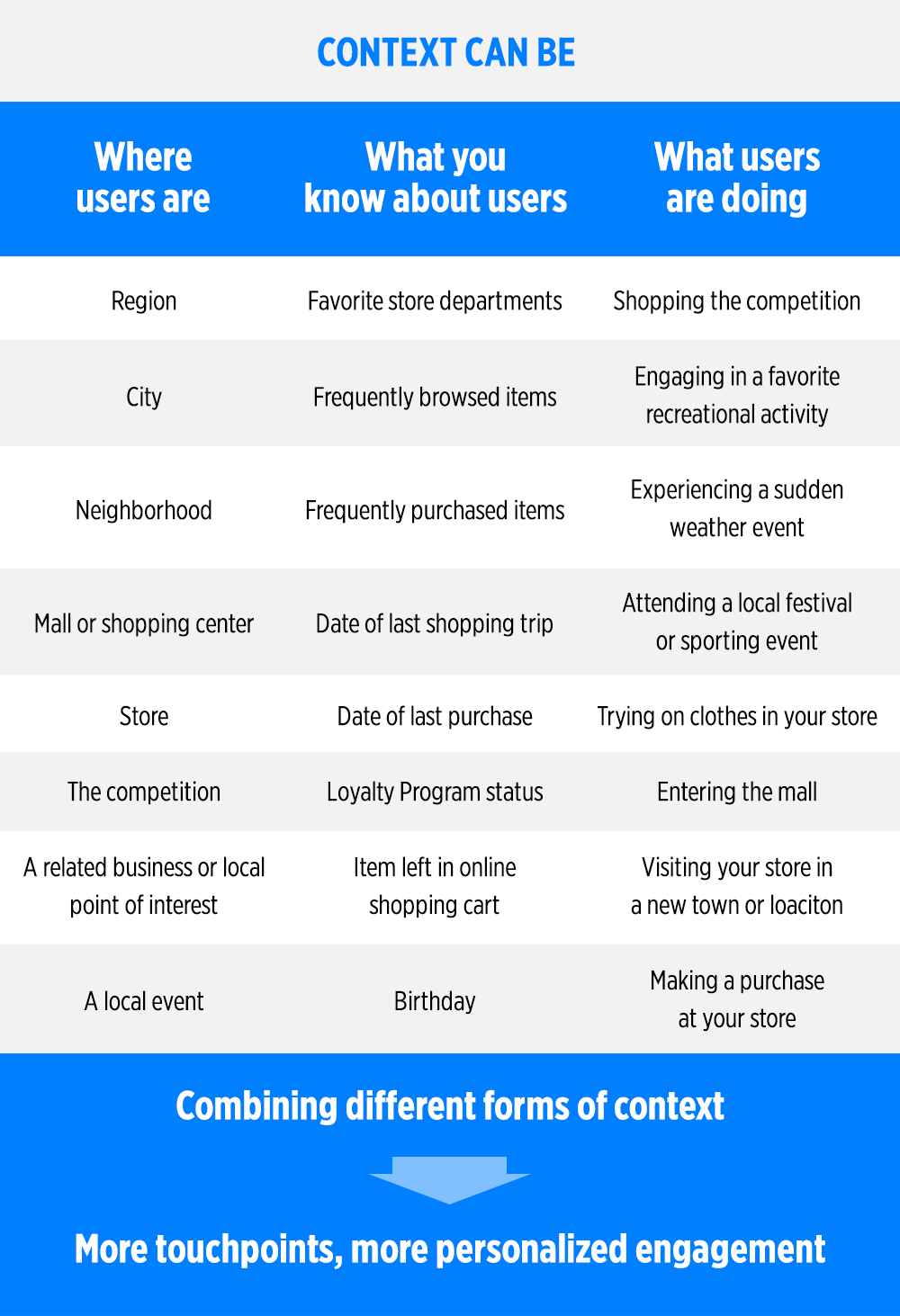 We couldn't agree more. True contextual personalization, as enabled and delivered by mobile devices and location marketing, may well be the most powerful development to hit retail marketing in a generation.
In the chart, you'll see that context can be lots of different things—from where users are to what you know about them and even what they might be doing. Location marketing gives you access to more of that contextual information, which retailers can use to unlock multiple new touchpoints AND capitalize on them with personalized engagement.
For example, any and all of these potential touchpoints can be opportunities for compelling personalized engagement:
A customer who frequently purchases fishing tackle enters the parking lot of a local lakeside park
The competition opens a huge new outlet three miles from one of your brick-and-mortar stores
Heavy rain is forecast for the day of a big local event, sponsored by your brand
A member of your loyalty program enters a different mall than her usual, but you also have a store presence there
A power shopper approaches the dressing room in your store — and your associate knows she left items in her online shopping cart
And that's just for starters. As The Economist Intelligence Unit put it, "Engaging customers with compelling, contextually relevant experiences is the new competitive high ground."
Download our infographic Who, What, Where? Location Intelligence Boosts Offers and Engagement to learn more.