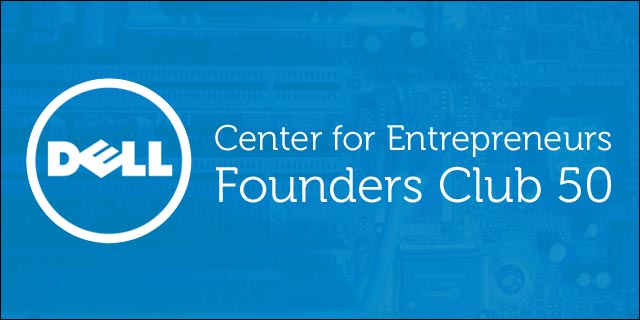 Dell for Entrepreneurs has announced its Founders 50 Fall 2014 cohort – the second class to join its Founders 50 initiative. These high-growth startups have been identified by Dell as the companies to watch this fall and were chosen based on their record of disrupting their respective industries through innovative products and creative solutions. Dell for Entrepreneurs* will provide this global cohort with access to resources, solutions, mentorship and exclusive marketing efforts, to help them continue to grow their businesses.
Dell believes entrepreneurs are the foundation for innovation, economic growth and job creation and works to empower entrepreneurs around the world to pursue their endeavors by providing them with the tools, technology and resources they need to be successful. Dell has a history of supporting entrepreneurs both within Dell, and externally, with Dell Ventures, Entrepreneur in Residence, and the Dell Women's Entrepreneur Network – which have all given Dell the opportunity to further empower high-growth startups while  creating lasting customer connections.
The Founders 50 continues this effort while specifically honing in on companies that have technology as a backbone, are on the verge of becoming household names, have received venture capital or high-level angel funding and are poised for rapid growth and expansion, including sales, revenue or expansion in new markets. Founders 50 companies receive access to consulting and technology resources needed to scale; capital; marketing and branding support; sales enablement and the opportunity to explore new partnerships within Dell; as well as key networking and mentorship opportunities with business and industry leaders.
The Founders 50 Fall 2014 cohort follows an impressive inaugural spring class – members of the spring cohort collectively raised over $2.2B in capital and have been backed by a number of notable angel investors and venture capital funds.
"Zoom has experienced rapid growth over the past six months," said Eric Yuan, Founder and CEO of Zoom, a member of the Founders 50 spring class. "We have surpassed 25 million participants, 20,000 business customers and 1,700 higher education customers. Dell has provided incredible support for this growth, from providing servers for our scalable infrastructure to offering marketing opportunities for us through the Founders 50."
When Founders 50 companies complete their two-year term, they become Founders Club Alumni, joining more than 115 other companies who have participated including Skyera, CloudFlare, Everloop and Mass Relevance.
Dell Founders 50 Fall 2014 Class
Dell's Fall Founders 50 participants exemplify how innovative technology solutions can be used to effect positive change and catalyze business growth. Last year, Founders 50 member Ting Shih and her company ClickMedix delivered healthcare services to over 45,000 patients in India who would have otherwise lost their hearing through a partnership with Medtronic.

"We are honored to be selected for the Founders 50 this year and be a part of Dell's entrepreneur programs," said Ting Shih, founder of ClickMedix.  "As we expand our eHealth platform to enable medical specialists and health organizations to serve more patients with chronic, complex diseases, we look forward to working with Dell to build our adaptable yet affordable eHealth system that can address the global healthcare needs of billions of patients."
Dell expands their current Dell for Entrepreneurs initiatives with a new fall Founders 50 class to be supported through technology, sales enablement, marketing, capital and networking opportunities
The Fall cohort marks the first global class for the Founders 50; five countries are represented including the US, UK, Canada, France and the Netherlands
Companies will take part in the Founders 50 for two years, with a new class being announced every spring and fall
Fall 2014 Founders Club Company List (By Industry)
ANALYTICS
DCIG, LLC (TX)
City Scan (IL)
BIG DATA
Quantified Communications (TX)
Switch Automation (CA)
Authentication Industries (FR)
insightXM (CT)
CLOUD AND IT SERVICES
Mercury Technology Group, Inc. (CA)
Silver Peak Systems (CA)
CROWDSOURCING
AHHHA (CA)
EDUCATION
Dewsly (MO)
HEALTHCARE
CareLink 360 (TX)
ClickMedix (MD)
Tiatros Inc. (CA)
Visbuzz (UK)
Blue Marble Game Co. (CA)
Televero Health Inc. (TX)
Vivify Health (TX)
Clinical Ink (PA)
HARDWARE
Third Dimension Technologies (TN)
MARKETING/MEDIA
Clypper (Neth.)
FEM Inc. (CA)
NextUser (CA)
Phocabby (CA)
Superdense (NY)
Phunware (TX)
NANOTECHNOLOGY
ACTnano, Inc. (IL)
RETAIL/ECOMMERCE
Quarterly Co. (CA)
Skinny Price (CA)
SECURITY
EyeVerify (KS)
Rippleshot (IL)
Cyphort (CA)
Key Cybersecurity, Inc. (VA)
MAFAZO LLC (OH)
SOFTWARE
ConvergeIO (CA)
Xockets (CA)
LayerX Technologies (TX)
Fastly (CA)
Humm Systems (TX)
TRX Systems (MD)
Mindaptiv (CO)
Vault Solutions, LLC (NH)
Software Motor Corp (CA)
TRAVEL
Bedycasa(France)
WEB HOSTING
Nexcess (MI)
CloudNine Discovery (TX)
SanAppTX (TX)
Cloud Dynamics, Inc. (CAN)
As some of the Founders Club 50 companies are currently operating in stealth mode, a few of the member companies have not been listed.
Applications for the next Founders 50 Class are now available online.
*Dell for Entrepreneurs was formerly known as the Center for Entrepreneurs
Charlotte Deal
Dell | Global Communications
Date : 9/16/2014
Round Rock, Texas