As we transition to 2018, retail marketers are taking stock of the past year and preparing for what's ahead. The retail apocalypse that was forecast back in the spring is either overblown, just beginning or…nobody really knows.
So what steps can retailers take right now not just to survive in 2018, but to thrive?
1. Put Digital Front and Center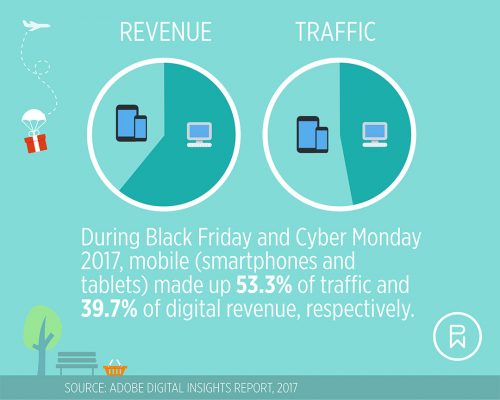 Your digital and mobile identity are now (or should be) integral to your brand. During Black Friday and Cyber Monday 2017, mobile (smartphones and tablets) made up 53.3% of traffic and 39.7% of revenue, according to Adobe. And Salesforce found that mobile accounted for 64% of shopping visits and 43% of sales orders the weekend after Thanksgiving, up from 54% and 33%, respectively, in 2016.
Despite these undeniably mobile-centric numbers, Boston Retail Partners (BRP) found in its 2017 Digital Commerce Survey that only 14% of North American retailers report having a mobile app that is working well, and a hefty 39% report having an app that needs improvement. BRP notes that "A customer's smartphone is also the key to customer identification and personalization of the in-store shopping experience." More than ever, today's retailers can't afford to sit on the sidelines and ignore the mobile app lifecycle.
To learn more, check out the eBook Mobile First: Harnessing the App Lifecycle For Transformative Business Success.
2. Engage Shoppers with Better Context and Personalization
As BRP points out, "Expansion of mobile capabilities represents a huge customer engagement opportunity for retailers." Adding location-aware mobile engagement or analytics to an existing app (or integrating them from the start) is one of the best ways to expand engagement opportunities.
With a mobile app and location-based technologies, retailers can:
Personalize the in-store experience and give customers the VIP treatment
Engage shoppers with strong offers in real time based on who and where they are
Guide shoppers through stores with an indoor GPS-like experience
Target shoppers with messages delivered in the relevant context of their daily lives—even at a competitor's door
Leverage location data to build more granular customer profiles and target or segment ads more effectively
To learn more, check out the eBook Mobile Marketing Automation: Why It Matters and How to Get Started.
3. Use Mobile to Improve Efficiency and Empower Store Staff
Shopper engagement isn't the only way mobile can help retailers compete. Mobile technology can help retail staff work more efficiently and get products in customers' hands with the least amount of labor.
For example, some stores are testing location tech to speed restocking. Mobile indoor mapping and navigation can guide employees on the most efficient route to the proper location for restocking each item. This solution is particularly useful for seasonal workers who are not as familiar with store layouts and where products belong on store shelves and racks. In recent trials, store associate efficiency increased a minimum of 8%. Companywide, this efficiency increase result in significant payroll savings over time. And in the arms race against Amazon, every competitive opportunity counts.
As we recently explored, mobile is driving the transformation of physical stores into distribution centers, enabling highly efficient performance for options like "Buy Online, Ship from Store" (BOSFS) and "Buy Online, Pickup In Store" (which some writers are calling "BOPUS" or "BOPIS"). If 2 out of 3 shoppers have used BOPUS, it's safe to say it's more than a fad.
In retail, perhaps more than any other vertical, adopting a mobile-first mindset for digital transformation it critical for success. It's time to harness mobile's central role in consumers' daily lives and take advantage of its hybrid digital / physical nature. Mobile can function as both a customer experience tool and a multifaceted business solution. Exciting times, to be sure!
If you're planning for a more competitive 2018, come see us at NRF in January! We'll be in Cisco's booth (#2052), powering an on-site smart store they created for the event.